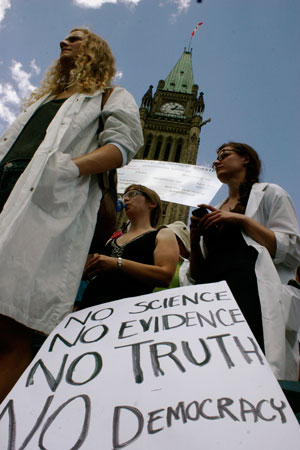 To the mournful tune of a lone saxophone scientists marched through the streets of Ottawa and onto Canada's Parliament Hill to protest a glut of cuts to government research labs and — they say — a lack of evidence-based decision making in the Canadian government.
The 10 July rally drew an estimated 2000 scientists, graduate students and their supporters to the sunny capital, many of them dressed in white lab coats; smaller protests took place in other cities across the country including in Regina, Guelph and Calgary.
The protesters accuse the Harper government of shutting down Canadian scientific agencies because they threaten to expose the environmental impact of fossil fuel extraction, particularly from the Alberta oil sand, and of mining on Canadian lakes and rivers.
"That's a story that [Canadian Prime Minister] Stephen Harper doesn't want you to hear," said Maude Barlow, the National Chairperson of the Council of Canadians, an advocacy organization that works to promote green water and energy policies, in her speech outside the Houses of Parliament.
:: Read more here ::